Divine Healing code for secret wishes which known only you and god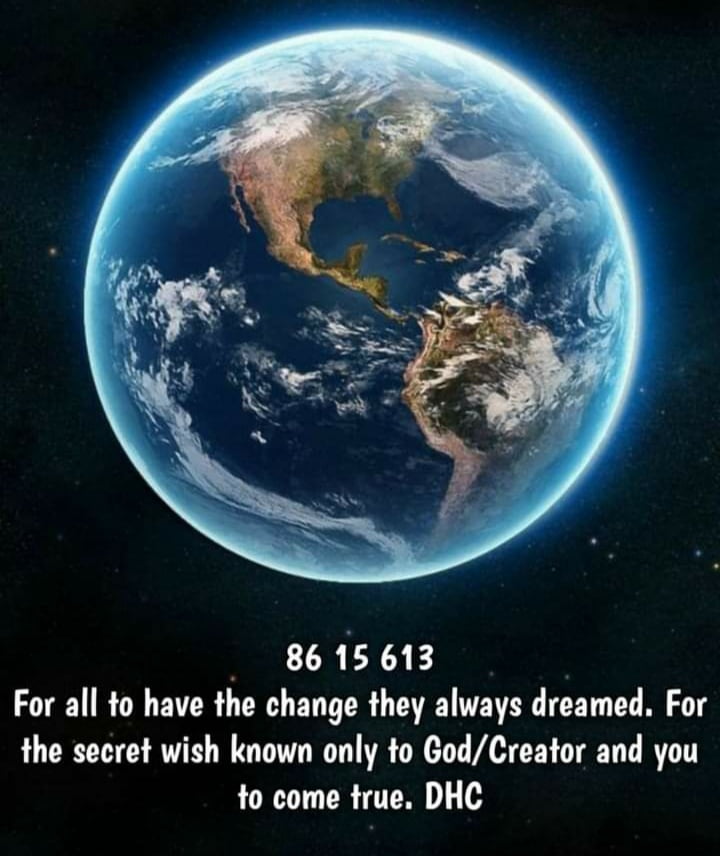 Hello friends,
It is a major health code.
Particularly secret changes to change in our lives this is healing code… healing yourself and divine it …that you always wanted to happen in the family or in your family.
6 divine Healing code on the left hand daily with blue or orage ink.
Write it in the book 11 times daily with any ink.
Chant it 108 times daily.
Since it is a single number, it is very important.
Chant it
86 pause for a second 613 for a second 15 pause.
Eighty six fifteen six thirteen.
Just do not feel.
Just read, don't absorb.
Just change, don't change.
Just don't be concerned, advocate.
Just don't promise, prove it.
Don't just criticize, encourage.
Just don't think.
Just don't take it, give it.
Just look, don't feel.
Just don't dream, do it.
Just listen, don't listen.
Don't just talk, act.
Just don't tell, show it.
Just don't exist, live.
Roy T. Bennett,
86 15 613
He always dreamed for change for all. Only for God / Creator and the secret desire to make you come true. DHC
Good luck.
Hindi translation
यह एक प्रमुख स्वास्थ्य कोड है।
हमारे जीवन में परिवर्तन के लिए विशेष रूप से गुप्त परिवर्तन यह उपचार कोड है … अपने आप को ठीक करना और इसे दिव्य करना … कि आप हमेशा परिवार में या अपने परिवार में होना चाहते थे।
6 दिव्य हीलिंग कोड बाएं हाथ पर नीले या ऑरेज स्याही के साथ दैनिक।
इसे किसी भी स्याही से प्रतिदिन 11 बार पुस्तक में लिखें।
इसे रोजाना 108 बार जपें।
चूंकि यह एक एकल संख्या है, इसलिए यह बहुत महत्वपूर्ण है।
इसका जाप करें
दूसरे पोज के लिए 86 पोज़ दूसरे 15 पोज़ के लिए।
अस्सी छह पंद्रह छक्का तेरह।
बस महसूस नहीं होता।
बस पढ़ें, अवशोषित न करें।
बस बदलो, मत बदलो।
बस, वकील मत बनो।
बस वादा मत करो, इसे साबित करो।
सिर्फ आलोचना मत करो, प्रोत्साहित करो।
बस मत सोचो।
बस इसे मत लो, दे दो।
बस देखो, महसूस मत करो।
बस सपना मत करो, यह करो।
बस सुनो, सुनो मत।
सिर्फ बात मत करो, अभिनय करो।
बस मत बताओ, यह दिखाओ।
बस अस्तित्व नहीं है, जीना है।
रॉय टी। बेनेट,
 86 15 613
उन्होंने हमेशा सभी के लिए बदलाव का सपना देखा। केवल भगवान / निर्माता और आपको सच करने की गुप्त इच्छा के लिए। डीएचसी
---
Divine Healing Lord Shiva scared code
Hello friends,
Maha Shivaratri is falling on 11 March this year. May we receive their holy blessings, we can chant the sacred mantra daily 108 times daily in the morning and night. There may be therapy and therapy. Auspicious day for Shiva devotees.
He is Bholenath, the most kind and favorite of Rakshasa, he is the giver of impossible boons.
Some really beautiful shayari on lord shiva.
Wonderful Bhole Teri Maya, camped in Amarnath
Thy shadow in Neelkanth, you are the only one in my heart.
Those who have Shiva in Rome, they drink the poison, what would the people burn them, who do it with ember as soon as they were made, Jai Bholenath Shiva Shambhu.
What is visible is the dead body and what is seen is Shiva
Shiva identified before the corpse or else the last floor cremation.
Neither live under any influence, nor live under anyone's influence
Devotees of Lord Shiva live only in their nature.
Lord Shiva Holy Code – 351.
Good luck.
हैलो मित्रों,
महा शिवरात्रि इस वर्ष 11 मार्च को पड़ रही है। हमें उनका पवित्र आशीर्वाद प्राप्त हो सकता है, हम प्रतिदिन सुबह और रात में 108 बार पवित्र मंत्र का जाप कर सकते हैं। चिकित्सा और चिकित्सा हो सकती है। शिव भक्तों के लिए शुभ दिन।
वह भोलेनाथ हैं, सबसे दयालु और रक्षस के पसंदीदा, वे असंभव वरदानों के दाता हैं।
भगवान शिव पर कुछ वास्तव में सुंदर शायरी।
अद्भुत भोले तेरी माया, अमरनाथ में डेरा डाला
नीलकंठ में तुम्हारी छाया, मेरे दिल में तुम ही हो।
जो लोग रोम में शिव हैं, वे जहर पीते हैं, लोग उन्हें क्या जलाएंगे, जो अंगारे के साथ करते हैं, जैसे ही वे बने, जय भोलेनाथ शिव शंभू।
न तो किसी प्रभाव में रहते हैं, न ही किसी के प्रभाव में रहते हैं
भगवान शिव के भक्त केवल उनके स्वभाव में रहते हैं।
भगवान शिव पवित्र संहिता - 351।
https://wealthhiwealth.com/horoscopes-astrology-and-zodic/